Reinforced Bumper Swing Seat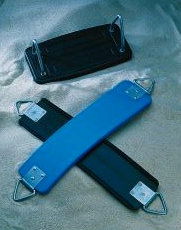 An extra piece of fluted rubber at the front and back of this seat gives it a cushioned bumper for added safety. It is made with a insert to resist vandalism and is made of EPDM rubber/Polymer blend and galvanized triangular hardware. Available in black, blue, green, red, and yellow.
Note: Bumper swings in this photo are the black and blue swings on the bottom of this photo, not the black molded flat swing at the top of this photo. 6" x 24" x 5/16" thick.

Sorry, no larger image available
You might also like: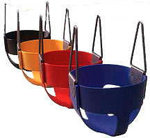 Fully Enclosed Commercial Infant Seat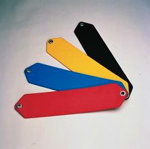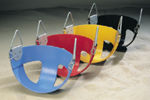 Copyright ©2002–2018 Recreation Dynamics, Inc. 540-547-9402
Many steel items require a 3-4 week lead time for preparation and delivery.
Most other items are shipped immediately. Call us toll free if you have specific time requirements.
*Free freight for all orders over $50 shipped inside the continental U.S. Offer valid for a limited time, subject to change without notice.